Auto Exhaust Repair & Replacement Service in Phoenix AZ
Custom Exhaust Shop
If you are ready to unleash the full power of your engine, come to Performance Muffler for professional and friendly services. We have over 15 years of experience customizing, replacing, and installing efficient exhaust systems to give your car more power and a clean bill of health. We know that your engine is only as efficient as your exhaust system, so we do everything to ensure the exhaust is in top-notch condition. Our services include the following:
Dual Exhaust
Your V6 or V8 engine requires a true dual exhaust system for more power and efficient output. It shipped with a semi-dual exhaust system, which most people confuse with a full dual system. The semi-dual system uses a dual in single out muffler and a Y-pipe that splits the exhaust near the tailpipe.
But a custom dual system from Performance Muffler offers much more. It features a variety of popular mufflers and aftermarket parts that mix and match to create the perfect performance you want for your car. We provide each exhaust manifold and head with a separate exit making way for double the amount of exhaust out of the engine, leading to increased horsepower.
Performance Muffler
Whether you are driving a Subaru WRX, Mitsubishi Lancer, or Honda Civic SI, you may want to modify your ride, and personalize a few areas, such as the muffler, to give it more personality. Mufflers form an important part of the exhaust system, working to dampen vehicle emissions and engine noise.
We can help you swap your plain stock muffler with something a little more trendy, and free-flowing. If you need to mute your engine sound or modify it to produce a nicer sound rather than the ear-splitting roar it produces when you floor the accelerator. You can trust the professionals at Performance Muffler, who have been in business for more than 15 years, to do a great job on your automobile.
Exhaust Cutouts
If you would love to go racing but without raising a din on the racetrack, you should consider introducing exhaust cutouts to your exhaust system. You can choose between manual and electric cutouts. If you go for manual cutouts, you must be willing to crawl under your vehicle and grease your elbows.
The better alternative is the electric cutouts, which you launch by a mere flip of the switch. They also offer adjustable engine sounds and offer the highest horsepower to your vehicle by the flick of a switch. They are easily the most silent exhaust systems on the market.
Exhaust Tips
Exhaust tips are about the only visible parts of your exhaust system – unless you crawl under your car. The choice of tips you make may make or break your car. At Performance Muffler, we can ensure it looks and sounds exactly as you want. Turn your vehicle into a flashy racing machine, or city cruiser by fitting customized exhaust tips, most of which employ the clamp-on technology to fix. We let your exhaust gases flow out in style.
Get a Free Appointment
We have professional technicians with years of experience modifying exhaust systems to enhance the performance of your engine. We can also help you choose the best exhaust tips to complete your exhaust upgrade.
Need more information on custom dual exhaust and cat-back exhaust systems? Schedule an appointment today.
Custom Muffler & Exhaust Shop in Phoenix
Whether you need a stock cat replacement or you're ready to unleash the power sleeping in your engine with a new cat-back system or performance headers, Performance Muffler can help. With over 15 years of experience, we've seen and done it all. Check out our photo gallery to see some of the custom work we've done over the years.
We are 100% committed to your satisfaction. You can rest easy knowing that your exhaust will be done right, the first time. From converter upgrades to chrome tips, we have what it takes to make your car stand out.
If you are in Phoenix or the surrounding areas, we invite you to explore our website and discover the services we offer. Please do not hesitate to contact us for additional information or a free estimate. We are looking forward to meeting you!
"Fabricators to the definition exactly. Highly skilled and can solve many needs."
"This shop does it right! They got me in quick, had my vehicle finished early and there were no surprises with the bill."
Learn About Mufflers & Exhausts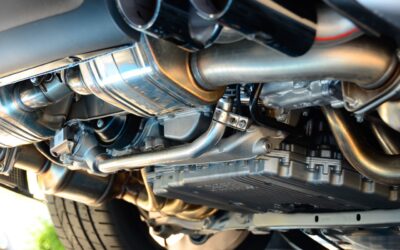 Have you ever been behind another car on a cold day and noticed drops of water dripping from its tailpipe? Believe it...