Custom Exhaust & Muffler Shop in Phoenix AZ 
Muffler Repair & Replacement
Custom Exhaust & Muffler Shop In Phoenix
For over 15 years, Performance Muffler has served the Phoenix area with an unwavering commitment to excellence and quality. Whether you want us to help customize your muffler, unleash the full power of your vehicle's engine, or simply give your car a clean bill of health, we are committed to making sure that every car that leaves our shop is in top-notch condition. Whatever you're capable of dreaming up, our competent and experienced team is more than qualified to turn into a reality.
Catalytic Converters in Phoenix
The catalytic converter, or cat, is an important part of every car. It is responsible for converting the toxic substances inside your car's exhaust into compounds that are safe for you and the environment. If you're noticing the smell of rotten eggs or having engine trouble, you may need to replace your catalytic converter. Fortunately, there's no need to despair. At Performance Muffler, we're experienced enough to replace your broken cat with a new one and get you back on the streets of Phoenix in no time at all.
Cat-Back Exhaust Systems
If you're looking to improve your fuel economy, increase your vehicle's horsepower, or achieve a specific sound from your engine, installing a cat-back exhaust system may be the perfect choice for you. Cat-back exhaust systems comprise a series of parts, including a muffler, resonator, and rear pipe, that work together to release burnt gases and create a well-defined engine noise. Whether you're hoping to turn heads with a full-on growl or to express the quiet power of your engine with a silent purr, the experienced mechanics at Performance Muffler are happy to install a custom cat-back exhaust system that will give you the car of your dreams.
Other Exhaust Services
At Performance Muffler, we've seen it all – and we can do it all. Do you want custom exhaust tips? No problem. What about manual or electric exhaust cutouts? We can do either. No matter what you want your engine to sound like or your exhaust system to look like, we have the variety of parts needed to create truly special, one-of-a-kind vehicles, as well as the expertise needed to install them. If you're in Phoenix, we invite you to get in touch to discuss how we can help turn your car into one you've always dreamed of driving.
Our Commitment
With over 15 years of experience, Performance Muffler is a staple of the Phoenix community and its surrounding areas. We're committed to helping you customize your car in order to create something truly special, and we're committed to doing it right the first time. No more endless trips back and forth from the shop: we're excited to do the custom work that's guaranteed to make your car stand out wherever it goes, and we're excited to do it better than anyone else.
Why Performance Muffler Phoenix?
Performance Muffler is your go-to spot for custom muffler and exhaust work in the Phoenix area. Are you ready to drive the car you've always dreamed of owning? Schedule a free consultation today! Contact us to learn more about how you can turn your wildest automotive dreams into a reality.
Custom Muffler & Exhaust Shop in Phoenix
Whether you need a stock cat replacement or you're ready to unleash the power sleeping in your engine with a new cat-back system or performance headers, Performance Muffler can help. With over 15 years of experience, we've seen and done it all. Check out our photo gallery to see some of the custom work we've done over the years.
We are 100% committed to your satisfaction. You can rest easy knowing that your exhaust will be done right, the first time. From converter upgrades to chrome tips, we have what it takes to make your car stand out.
If you are in Phoenix or the surrounding areas, we invite you to explore our website and discover the services we offer. Please do not hesitate to contact us for additional information or a free estimate. We are looking forward to meeting you!
"Fabricators to the definition exactly. Highly skilled and can solve many needs."
"This shop does it right! They got me in quick, had my vehicle finished early and there were no surprises with the bill."
Learn About Mufflers & Exhausts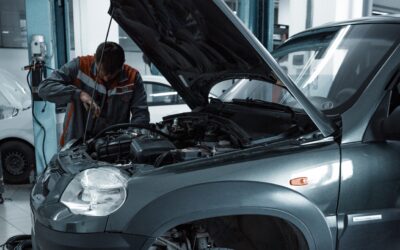 Whether in inclement weather or in the middle of the night, the last thing anyone wants is to be stranded in the...