Cat Back Exhaust Installation Service in Phoenix AZ
Cat-Back Exhaust
A cat-back exhaust system is that section of the exhaust system attached after the last catalytic converter in the system. It consists of a resonator, muffler, and a rear pipe, but some may have more parts depending on the make and model. It is a simple power modification that works to free your burnt gases to produce a more defined engine note.
Benefits
Adding a cat-back exhaust to your exhaust system has various advantages. The most obvious benefit is providing increased horsepower. They are more efficient than your stock exhaust because they have a wider diameter piping and a higher-grade mandrel that gives more laminar flow. This reduces the level of backpressure at the engine manifold, enabling your engine to breathe much easier and produce more power.
Cat-back systems also lead to more fuel economy. This is because it helps the engine pump out exhaust gases, reducing the total amount of engine load, hence, using less fuel. You will experience more fuel economy driving at freeway speeds, and sometimes cruising around the city. And a silent exhaust system would be handy if you don't want to attract too much attention.
It also helps you achieve that sound you want from your engine. Whether it is a full-on growl or a silent growl, you will always find a cat-back system that meets your needs. Modifying the engine sound should be one of the biggest considerations to make before purchasing and fitting cat-back exhaust systems on your vehicle.
Cost Factors & Cost
Cat-back exhaust systems are an essential part of your exhaust systems, that is, if fuel economy and modifying the engine sound of your vehicle, make any sense to you. These benefits come at a cost, ranging from cheap to most expensive. Several factors determine the cost of the cat-back system. They include the thickness of the steel and muffler quality and type.
The system with thin steel will cost an average of $300 while those with the thickest steel can go for as much as $1,200. At Performance Muffler, we can help you elect the most convenient and cost-friendly cat-back exhaust systems for your specific vehicle. Our technicians love cars and will be able to help you select the best cat-back system for you.
Considering the many benefits of cat-back exhaust systems, the cost of the required components and installation would be a small price to pay. You would really appreciate the increased horsepower, fuel economy, and engine sound you want your vehicle to produce – it is a perfect window for the personalization of your road-star.
Schedule An Appointment Today
If you want to enhance the functionality and aesthetics of your exhaust system, you can take advantage of our high-quality performance mufflers and cat-back exhaust systems to personalize your ride. Get in touch with us today to get started. 
Custom Muffler & Exhaust Shop in Phoenix
Whether you need a stock cat replacement or you're ready to unleash the power sleeping in your engine with a new cat-back system or performance headers, Performance Muffler can help. With over 15 years of experience, we've seen and done it all. Check out our photo gallery to see some of the custom work we've done over the years.
We are 100% committed to your satisfaction. You can rest easy knowing that your exhaust will be done right, the first time. From converter upgrades to chrome tips, we have what it takes to make your car stand out.
If you are in Phoenix or the surrounding areas, we invite you to explore our website and discover the services we offer. Please do not hesitate to contact us for additional information or a free estimate. We are looking forward to meeting you!
"Fabricators to the definition exactly. Highly skilled and can solve many needs."
"This shop does it right! They got me in quick, had my vehicle finished early and there were no surprises with the bill."
Learn About Mufflers & Exhausts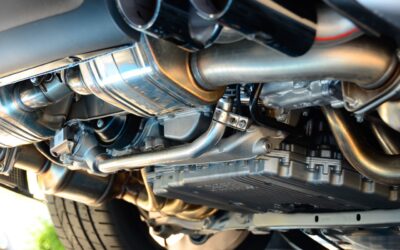 Have you ever been behind another car on a cold day and noticed drops of water dripping from its tailpipe? Believe it...